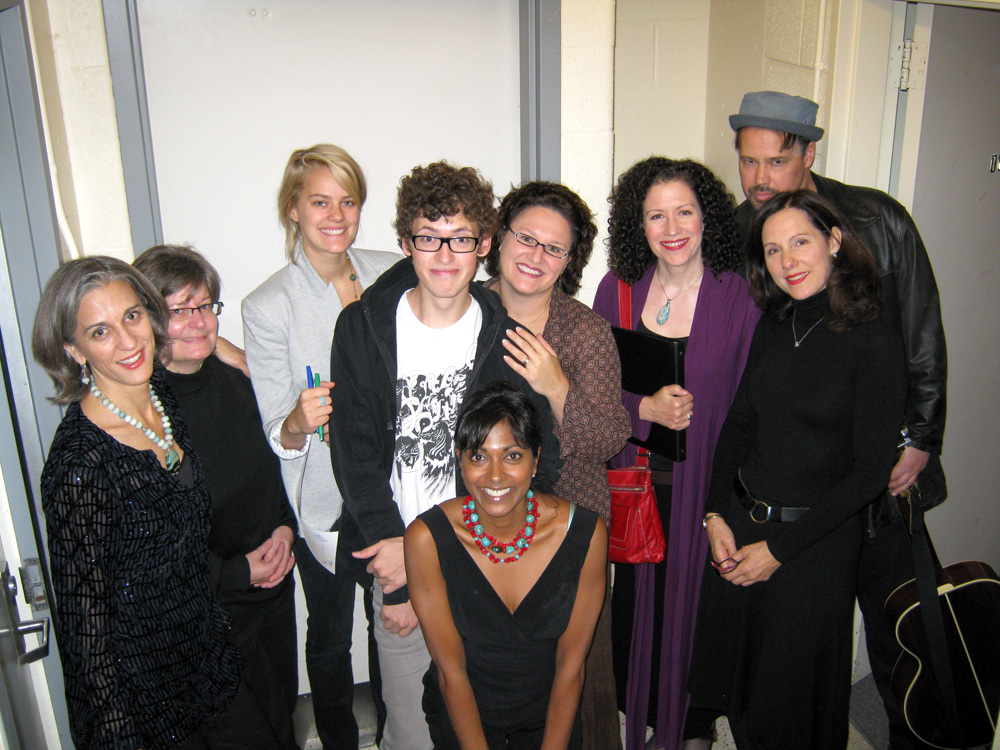 WHEN FINALLY I SEE YOU: Just before "Readings from the Fifth", University of Toronto, Walter Hall, with friends (left to right) Alexis Bernier, Angela Sande, Chris Prudem, Denise Oucharek, Gina Clayton, Kevin Quain, Jayne Smiley and (front row) Imali Perera.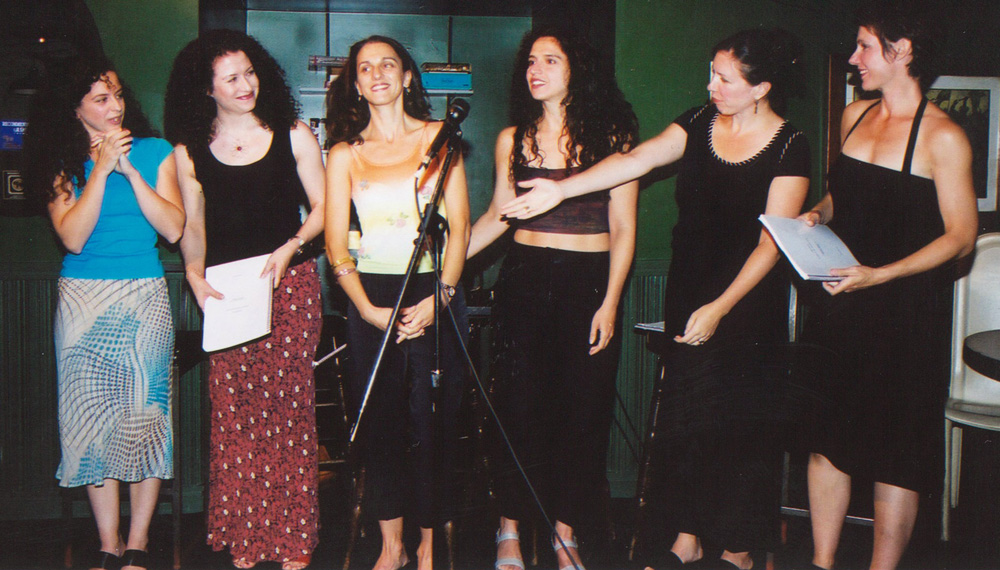 Marianne and friends (from left to right) Anna Pappas, Gina Clayton, Author, Frances Pappas, Monica Whicher and Jayne Smiley read to a capacity house at the 2001 reading of "Love Poems: A Zealot in the Promised Land" at the Idler Pub, Toronto, Ontario.
Poetry has always been an entry into the world of metaphysics, magic and self discovery through the universal lens. It is a physical, as well as an intellectual pleasure, thus my focus on reading aloud to glean meaning. The works of some of our world's greatest poets and song writers have been my constant companions and my most demanding teachers. I began to experiment with writing myself as a very young child and have never stopped. The pen and keyboard are both tools of a craft and at times a couch. It is the music of poetry that I value so highly, after its ultimately freeing message, and the search for it what drives me inward and so onward.
---
From Working Women – My Mother's Hands
by Marianne Bindig
Used by John Greer in his song cycle "The Red Red Heart," available from PLANGERE.
when finally I see you
my dear and ancient friend,
I shall cast off the mantle of my Catholicism
and embrace you with an open heart
a heart full of love and memories as tall as our shadows after dinner
a naked heart
an unabashed and unrelenting heart
a red red heart
a light by the altar that never goes out
your Christly heart
a red red heart.
IV.
Laughter brings wine red as blood
flowing from her like the fountain at Cana.
With open hands she releases her soul and
peacocks spread themselves about The Room.
They whirlpool up, fans of dazzling green and blue,
[Her head sprouts daisies
where she thought you'd give her roses.]
Fantastic birds, tiny and thousands,
settle on a heart now southern with colour.
♣
---
From Love Poems, A Zealot in the Promised Land
by Marianne Bindig
Used by Harry Freedman in his song cycle "Spanish Skies," available through the Canadian Music Centre.
Go down to the water love,
Go down to your ocean where the moon already glows
on that sorrowful sea that separates you from me,
Water of my tears and grief,
Viscous lover, liquid thief,
Go down to the water And send your thoughts to me.
Here the sun does not shine;
The last of the leaves reach, disconsolate, to a selfish winter sky.
Cold winds and frosts and poets' pens bleed all our colours dry.
Go down to the water still my love –
Benijo – by the castillos; that hang stolid in the evening air,
Go down that blackened, heart-broken beach,
Wordlessly go,
And find me waiting there.
♣
Goldfish in a winter pond
deeply steeped in marmalade dreams
evoking autumn trees
when their thoughts have turned to mandarin oranges,
firesides,
and amber ovals on snow-white throats;
it is a drop,
a falling through,
when sky meets earth
and all my thoughts
fly east to you.
novels read on hillsides green
as Spring displays her ardent sex,
a breeze laced in chill
reminding me of a kiss in winter
so hot it knocked on Summer's door
and found her furnace stoked
and burning bright –
all our soul-sparks darting out,
pitched into the blackest night.
we are Victoria's champion fire,
and Washington's fourth of July;
our souls, and time, and earth, and sky take wing!-
we stand amazed and watch them fly!
♣
You never knew
that on the bright mornings
of late summer
When all things come 'round again,
I would dress in my finest funk
And glide by your store
on the south side of the street
Where you worked out front with the fresh corn and watermelons.
The light was just right
for your shadow
to stretch out long before me
as I passed you by;
And every time I waited,
And every time I looked and yearned,
And every time your shadow turned
For one long, last look
As you read me like a dirty book.
♣
---
---
From Transformations and Revelations for Casually Sunlit Days
by Marianne Bindig
Adapted by Ben Beverge for his CD "the Parlour Sessions," available at www.sandrockranch.ca
i.
In this country
where a hawk
is no surprise
and roses slice
the evening skies,
we wander
kidnapped by surprise
and view the plains
through lovers' eyes.
ii.
A distant whistle
straightens us
makes the air and us stand still,
A puff of smoke
metal's breath
recedes behind the hills;
we are alone
Dog and us
on this soft sea of wheat
Time bends us back
and evening's sun
casts shadows on
our feet.
iii.
We turn away
still dreaming
on feet that smell
of grass
and crush beneath us
as we go
a million stars
that bloom and burst
on plants fashioned
from glass.
♣
---
From New Silver Poems
by Marianne Bindig
Answer to Dante
At the midpoint of my life
I arrived at the shore of the Sea.
Something unnamable and fierce
had driven me there
and held me from turning
with its unseen hand at my back.
The Sea stretched out before me
blue and shining in its cradle
and on its waters rocked sailing ships
festooned with banners,
and heavy with the lives
of those who had passed me
and those before me who had yet
to coddle their dreams
and eat of the fruits of their passions.
Out they rolled in the bright golden day,
out to the Sea and the sky hung with still pale stars;
Vessel after vessel, their revelers filling the billowing sails
setting straight the fores, the mizzens, and the mains
and rendering unto them once more
with the exhilaration of a breath sweetened
by anticipation of adventure on the open Seas,
their graceful and upright splendour –
and I, mute and deaf on the sand
with only my eyes, my tearless eyes
to witness the departure of all I had known
and all I had guessed would be.
But what ate at my heart like the Raven
left twenty one days at Sea
was not the going of those great barques,
was not the faithfulness of the tide
was not the sight of all I had known
being borne away swell after swell after swell –
No.
What ate me for two long years
with no mercy or care for my pain
was the knowledge that I could not go forward
and the lack of desire, of any desire
to ever go back again.
♣
Even as the Sun
set high above the Wood
casts his gold medallions
through the trees
So
letting all my Love out
at the seams
would I spend myself
On You.
♣
There was a woman
who had an idea
of herself
She had an idea
of herself in a cobalt blue coat
with a black fur collar
and a lining that was all
patios and Italian cafés
She had an idea
-that she once thought of
as a memory-
Of a glass of wine on a table
by the Ponte Vecchio
overlooking the Arno
beneath a very small
Italian sky
The idea wondered
what story it was
that this small sky
told itself
Were its visions all
of intimacy
of David and the Duomo
of great painters in smocks
by pink cartoons
of God made flesh?
The coat itself was blue
like the sea
reflecting dreams
of heaven
of a woman in a lining
on a chair
by the sea.
♣
All poems copyright of Marianne Bindig.