My journey into teaching began in 2002 when I was asked to give my first Masterclass. I discovered a passion for helping people to find what they already know but may not yet have accessed. In 2012 I met Dr. Michael Warren and was blown away by his teaching, especially the results I heard happening right in front of me when his students sang. I began serious retraining with him in 2014 and my vocal technique is transformed. I am more capable than ever before; I have 4 three octave scales on my best days, and two on my worst. He is a pedagogical mentor (teacher of teachers) and so my teaching is also transformed. If you'd like to understand, truly, where I am coming from, you can visit his site at: www.michaelwarrenvoice.com.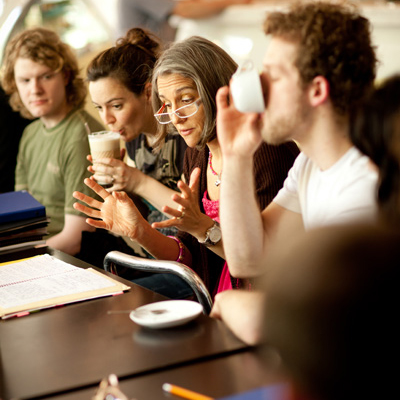 I have always been analytical when it came to my own process and have found many channels that have helped me to become a better singer, Iyengar yoga and meditation being two of the greatest tools. I am also deeply aware of the shoulders of my own teachers and coaches upon which I stand. The sharing of knowledge is what gives meaning to life and helping one another to fulfill our dreams and follow our life paths. It is an all-encompassing journey to which I surrender daily, and I am ever grateful to my students for allowing me the privilege of pursuing my calling to teach.
PROFILE
Teaching voice and coaching repertoire since 2003, both privately and at various institutions
Performed as recitalist and soloist with leading symphony orchestras, ensembles and opera companies in Canada, Europe and the United States
Designed and implemented a course on the interpretation and presentation of poetry for young singers (aged 19 through 30) dealing with 65 texts in 3 weeks
Taught German Lied (third year) at University of Toronto, 2012
Developed modalities of evaluation
Written and published poetry: three song cycles based on my poetry, two by John Greer, one by Harry Freedman (PLANGERE Publications and CMC); three songs based on my text by Ben Beveridge for Sandrock Label
Committed to lifelong learning and process-based, results-oriented instruction
TEACHING EXPERIENCE
Private Vocal Instructor, Ongoing
Private Vocal Instruction and Master Class Facilitation, Wilfrid Laurier University, 2006 – 2008; 2013 – ongoing
German Lied Class: University of Toronto, 2012
Poetry Interpretation & Presentation: Opera Nuova – Edmonton, 2011 – ongoing
Vocal Instructor / Masterclass: Opera Nuova – Edmonton, 2006 – ongoing
Vocal Workshop: Hamilton Children's Choir , 2010
Vocal Music Supply Teaching: Branksome Hall – Toronto, 2010 – 2013
Vocal Workshop: Mississauga Children's Choir , 2008, 2007
Drama Teacher: Toronto District School Board, 2004
Masterclass: University of Western Ontario Faculty of Music, 2004
Music Teacher: University of Western Ontario Faculty of Music, 2003
Masterclass: Brock University Faculty of Music, 2002
Masterclass: Calgary Opera Association, 1999
REPERTORY COACHING
Provided individual vocal instruction to university-level students based on the following principles:
Diction: English, French, Italian, German, Russian, Czech, Latin – how to use IPA, how to know when it is not enough through the careful study of existing translations and interpretations after working on our own; students discover the absolute necessity for a basic knowledge of the grammar of the languages they are presenting and gain a more immediate relationship with and understanding of text and thus composition
Interpretation: Specificity in all repertoire (how to paint pictures for your audience), Character analysis, Text (Poetry, Libretto) analysis
Stage Craft: body mechanics, basic understanding of the physical theatre and the actor's approach to a script
GROUP/MASTERCLASS FACILITATION
Facilitated master-classes for advanced singing students through organizations and schools including Opera Nuova, The Calgary Opera Association, Brock University and the University of Western Ontario (repertory ranged from early English through to grand opera)
Delivered Grade 11/12 Acting Technique and university-level Technical Theatre curriculum
Planned and facilitated grades 9, 10, 11 and 12 vocal classes; developed and delivered a unit on Medieval and Renaissance Music History and Performance Practice
Planned, developed and evaluated culminating project for grades 11 and 12 vocal students; and assisted with extra-curricular rehearsals
RELATED EDUCATION & TRAINING
Bachelor of Education, Vocal Music and Drama, Intermediate / Senior
Ontario Institute for Studies Institute for Studies in Education, University of Toronto
English as a Second Language (ESL) Certificate (155 hours)
The Canadian Co-Operative for Language and Cultural Studies, Inc.
Italian Studies
Scuola Dante Allighieri (Florence, Italy)
Diploma of Operatic Performance
University of Toronto
Bachelor of Music Performance Major: Vocal Performance
University of Toronto
VOCAL INSTRUCTORS & COACHES
Dr. Michael Warren
Phyllis Curtin, Mary Morrison
Margot Garrett, Anthony Rolfe-Johnshon
Stuart Hamilton, Helen Simmie
Thomas Hampson, Don Tamawski
Warren Jones, Galina Vishnevskya
Martin Isepp, Sarah Walker
Patricia Kern
*Sat diction classes (French, Italian and German) with Nico Castel.
COURSES & WORKSHOPS
Summer Vocal Intensive With Dr. Michael Warren, Hunter College, New York City; 2014
Participant.
Summer Vocal Intensive With Dr. Michael Warren, Hunter College, New York City; 2015
Guest Speaker and Artist
Mask Making: How to in High School
Teodoro Dragonieri
Tarragon Theatre
Pélagie: An Acadian Odyssey
Jonothan Neelands
CanStage
An Opera for the Twentieth Century
Christopher Butterfield and John Bentley-Mayes
Banff Centre
Study of Russian Song
Galina Vishnevskaya
The Britten-Pears School, Aldeburgh, England
Study of theMusic of J.S. Bach & G.F. Handel
Sarah Walker
The Britten-Pears School, Aldeburgh, England
Intensive Vocal Study and Workshops (Fellow)
Tanglewood Center for Music (2 sessions)
Academy of Singing
Martin Isepp
Banff Centre (2 sessions)
Music of the French, Italian and English Renaissance
Intensive work and performing with lutenist John Edwards of The Musicians In Ordinary
COURSES & WORKSHOPS
Canadian Actors Equity Association
Alliance of Canadian Television and Radio Actors
Ontario College of Teachers
REFERENCES
Available upon request